Statue of David (no, not the Michelangelo one)
David was pleased and relieved that I was, finally, collating Rancho stories for this blog, but sadly and mournfully, he died (21.07.20) before I had got very far. Like David, the fountain was born in South East London, near Waterloo. Read on for the story behind "David" by Harry Franchetti. He begins by recounting what it was like partnering with David in the late Eighties.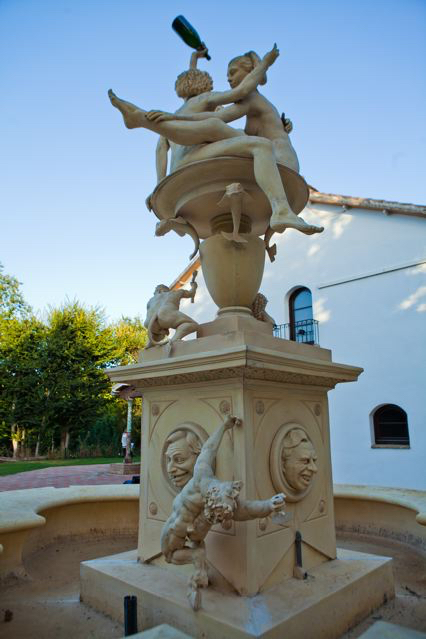 Harry's post about the fountain.
When David first visited our studio and announced, "I can use you." I had little idea of the friendship and adventures that would follow. I gradually got used to his wild enthusiasms and warmed to his all-embracing personality. His calls would usually start with, "You've got to come and see this", and I needed little excuse to skive off and see what he was up to.
If David had been an artist (and I am not sure he wasn't) his medium was people. It took another thirty years for artists like Mark Quinn, Damien Hirst, and Paulozzi to use this medium. David could enter a room of twenty strangers and leave after an hour with everyone feeling that they had known each other for years.
David had exquisite taste and a good eye - his passion at that time was for objets d' art and architectural salvage. This is where I realised my role. He would pick me up from the studio and take me to some derelict building—salvage yard— even the Foreign Office,
He always seemed to know somebody who could give him access. David was particularly drawn to big things —seriously heavy things… " Here grab the other end of this and help me get it into the Land Rover". I particularly remember him on one trip doing a U-turn and driving into a derelict site and getting me to help load a pile of old wood beams onto the roof rack, to the point it could take no more. Nobody was about but he said he had spoken to somebody. I do remember we drove out faster than we drove in.
The Fountain-
With his customary "You've got to come and see this " David announced that his business was moving to new premises. He took me to a modern building with a spectacular three floor high atrium. I can't remember whether it was his idea or mine but a fountain was discussed which quickly became a project followed by a reality. No consultations - no briefings and what's more, no real costings! Well it was the 80s.
The works of 16C engraver Wendel Dithering and his eccentric sense of humour inspired the design and led to the idea of incorporating portraits of the staff and with the theme of "success". The structure was to be basically classical architecture decorated with gargoyles made from people who worked for the new Studio 10.
The fountain was on three levels: at the top, champagne pouring over three naked girls. In the middle the potential downfalls: the devil chiselling away at the foundations; Bacchus dancing round drunkenly and Lady Bountiful offering her all. At the bottom, David giving his second in command, Rowland, a leg up to climb the structure. I was never sure about putting David into it so I insisted he would have to be naked thinking this might put him off. Not David!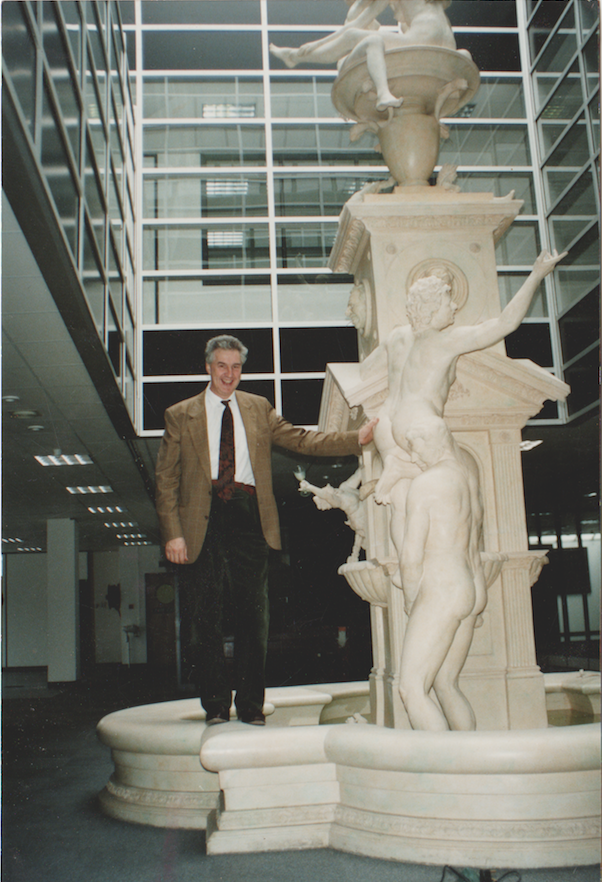 I had to call in the help of other sculptors and moulders, among them Bernard Kramer. Bernie was one of the first people to give me work after I left college. Bernie had a lovely studio just off the Kings Road and I fondly remember long lunches, 5 o'clock beer and endless chat. I am happy to say he brought along great skills and all his old work ethics to my project. David and Bernie instantly hit it off and became life long friends. Sadly we also lost Bernie, in 2019, but his spirit lives on.
I wanted to have three ethnically different girls representing different continents. The first girl was Sophie Allistrome, a dancer who had a dark Mediterranean look. The second was Bryony Knox, punky and English, a friend's younger sister. The third girl took more finding (after a girl working at the checkout at the local supermarket turned us down). Maria Diete-Spiff was a beautiful, tall, statuesque black girl who I spotted in the local college canteen having lunch but scanning all the while for potential candidates. After some persuasion she came and sat for me.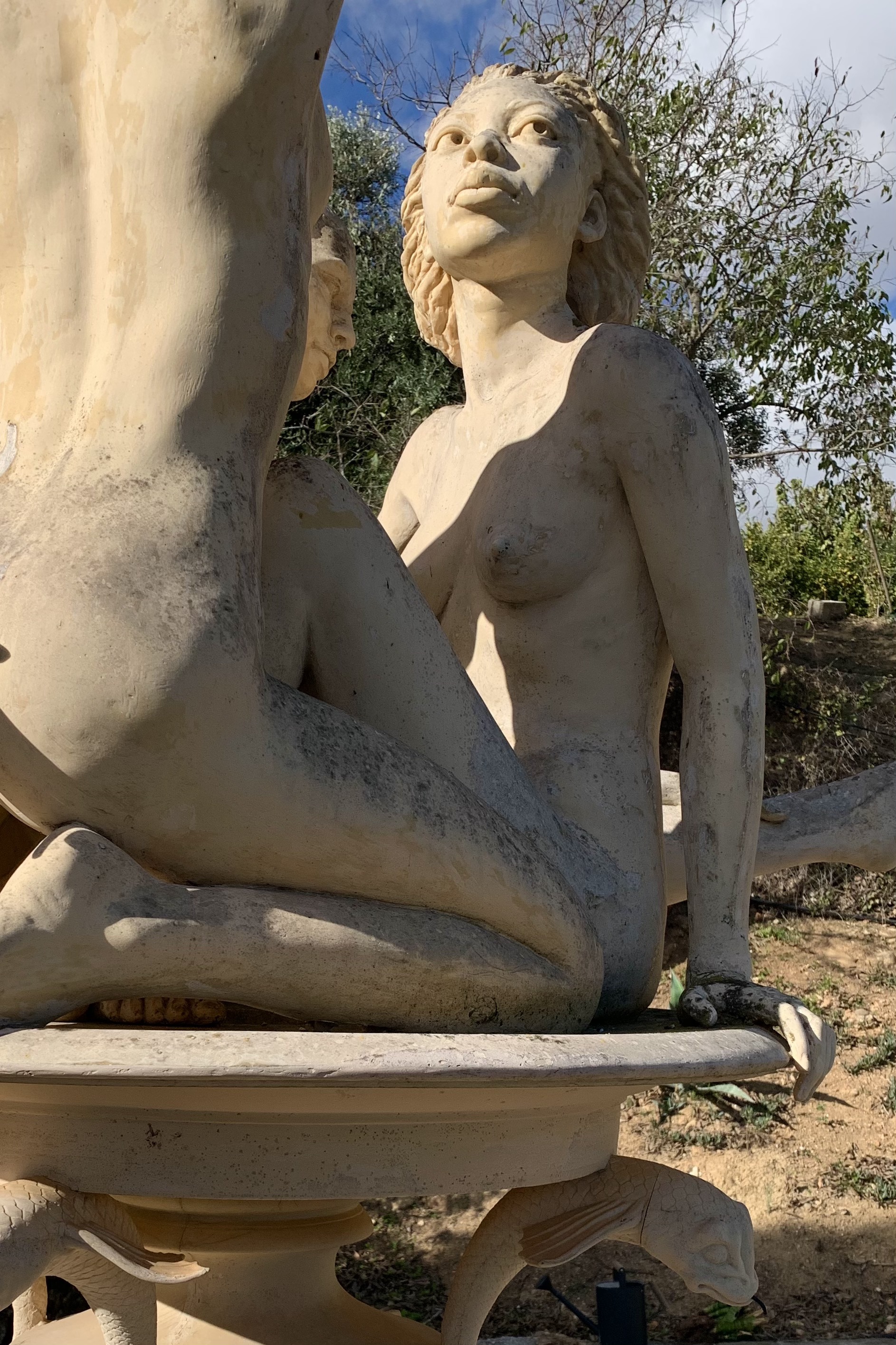 Some time in the early 90s.
The move To El Rancho was a good one as it was necessary for me to reduce the height. I could remove one section and the slightly dubious sculpt of David and Rowland. It was amusing to find how over the years these figures seemed to have a life of their own and move around to different positions on el Rancho.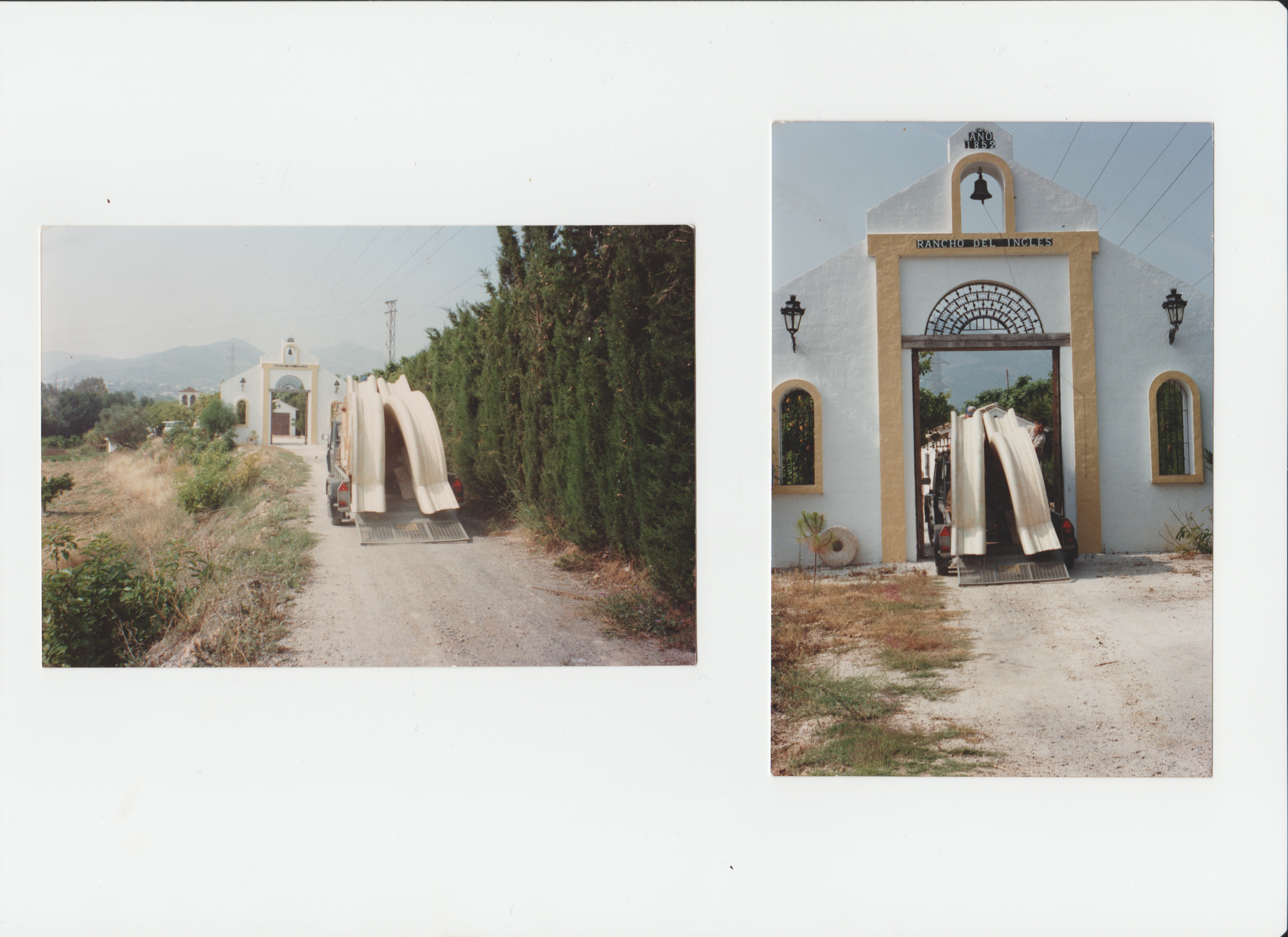 The container truck that carried the fountain from London was too large to get through the gates. So the parts were relayed by the trusty, rusty, Land Rover and trailer.
Posted in Provenance 19 Dec 2020